The Garage Sale & Flea Market Annual Seventeenth Edition - Sharon & Bob Huxford, Collector's Books. Mar-crest current values as of 2009. I priced the Daisy and Dot items. I'm happy to say that quite a few pieces are listed this year! American Heritage, Nordic Mint and Swiss Alpine pieces listed as well.
---
The Complete Cookie Jar Book by Mike Schneider (Revised 4th edition) speaks of Mar-crest on page 174. The section is titled Western Stoneware Company and there are 3 interesting paragraphs. They cover the Monmouth Pottery Company of Monmouth, IL merger in 1906 with 6 other potteries to form the Western Stoneware Company. The latter closed in 1985. Also, that the Western Stoneware used many different marks. The pieces they made for Marshall Burns were marked Mar-Crest.
---
A reference found in the Official Price Guide to Pottery and Porcelain by Harvey Duke was on page 334, saying his information comes from Brenda Roberts. It simply says that Hull did the pastel pieces and the brown line was made by Western Stoneware for Marshall Burns.
---
The Collector's Encyclopedia of Hull Pottery by Brenda Roberts pages 18 and 19 show 2 of the Mar-crest trademarks. Pieces impressed with the Mar-crest trademark, she states, were premium items produced by Hull in the late 50's. Also, that House 'n Garden casual serving ware and Heritageware molds were used. Page 21 talks about Heritageware molds and their being premiums for grocery sales. More info is found on page 138 (pictures on page 139). Page 144 pictures a Hull Marcrest dark green glazed 8.5" x 4.5" ashtray. Bottom of ashtray has the raised capital letters spelling MARCREST.
---
An Illustrated Value Guide To Cookie Jars by Ermagene Westfall - 1983 (Values Updated 2003). Page 53. One cookie jar is shown and it is marked Mar-Crest Oven Proof Stoneware USA $45-$65. The author simply calls the pattern Brown with Flowers and Dots.
---
Collector's Encyclopedia of American Dinnerware Second Edition Identification and Values by Jo Cunningham 2005 speaks of Mar-crest on page 308. The chapter is entitled Western Stoneware. It covers Western Stoneware's formation in 1906, contributions of Eva Zeisel and a brief summation of Mar-Crest Stoneware history. A picture of a Mar-crest cookie jar and a rare square snack plate can be found in this section, also.
---
Monmouth - Western Stoneware by Jim Martin and Bette Cooper 1983 speaks of Mar-crest on page 53. However, the entire book is a wealth of information.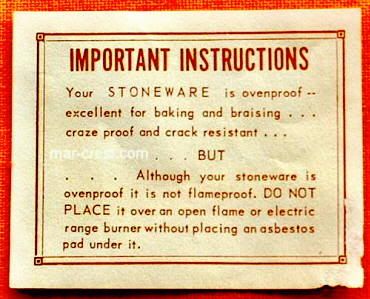 Photo courtesy eBay seller 4081francine
Copyright © 2005-2020 Rita Pence. All rights reserved.
Website powered by Network Solutions®