There were 4 styles of Mar-Crest daisy and dot cups. From left to right, giving top widths:
(a) 1 finger handle 3 1/2"
(b) 2 finger upturned handle 3 5/8"
(c) 3 finger handle 3 1/2"
(d) Snack plate soup cup 4 1/4"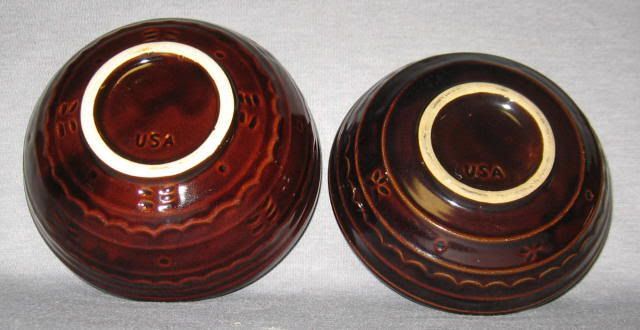 Individual salad, soup, cereal bowl pictured on the left (5 1/2" wide by 2 3/8" tall), dip (aka berry)

bowl on the right (5 3/8" wide by 1 5/8" tall). An easy way to tell the 2 apart if no measurements

are given, but they are pictured side by side is to know that the cereal bowl has 2 rows of daisy and

dots, and 2 rows of scalloped lines. The dip (aka berry) bowl has only 1 row of each.
Send your Mar-crest pictures here.

Website powered by Network Solutions®